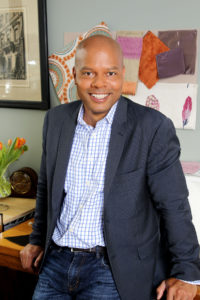 Biography
Marvin Jay Brooks attributes much of his craving for design to his childhood home designed by Stanford White. With many childhood memories framed by American Renaissance design, Marvin has an innate sensibility for traditional aesthetics while also embracing the contemporary.
Marvin took an eclectic path into interior design.  After earning a bachelors degree in Hotel & Restaurant management from The Ohio State University, Marvin moved back to the East Coast and was immersed in Manhattan's hospitality industry. He gained valuable experience creating aesthetically pleasing special events, which further revealed Marvin's passion for interior design.  Marvin used his time as an event planner, for high-end functions, to hone his eye for design.  Upon deciding to follow his true calling, Marvin attended Parson's School of Design and then established his own firm in 2005. Marvin Jay Brooks has created many interiors in New York in addition to out-of-state projects.
Design Philosophy
Marvin Jay Brooks Interiors will create contrasts that enliven the palette of your interior through luxurious textures and tasteful co-mingling of vintage and contemporary furnishings and finishes. Marvin's approach combines impeccable craftsmanship and function to achieve a distinctive elegance through clean, genuine design.